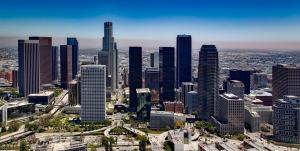 Short Term Rentals in Los Angeles & More
Los Angeles is at the center of Southern California life, but it can be hard and expensive to find short term housing here. Whether you're looking for a short term rental in LA or furnished housing, Let our experts help you. We know where hard-to-find temporary housing is located.
Local Factoid
The City of Los Angeles holds many distinctions. L.A. is the entertainment capital of the world, it is a cultural mecca, boasting more than 100 museums, many of them world-class. LA is a paradise of idyllic weather. From tourist attractions like the Walk of Fame's collection of stars (numbering more than 2,614 and growing by one or two a month) to career opportunities like those presented in the expanding tech industry, Los Angeles is THE place to be. It is the only city in North America to have hosted the Summer Olympics twice – and by 2028 it will be the third time. Downtown L.A. is the largest government center outside of Washington, D.C. Here you'll find the only remaining wooden lighthouse in the state (located in San Pedro's Fermin Park) and the largest historical theater district on the National Register of Historic Places (located Downtown on Broadway).
Source: https://www.discoverlosangeles.com/media/facts-about-la
Some of the employers in the area include Target, Ralph's/Food-4-Less/Kroger, Providence Health, Northrop Grumman, and hundreds more!