California is known for many things. Incredible weather. Movie stars. Silicon Valley. "Groovy people" (sometimes, too groovy!). But it's also known for incredibly expensive and hard-to-find short-term housing.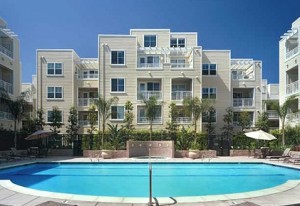 If you have ever tried to find corporate housing in California, you will know exactly what we mean. And if you stop to think about it, it figures. For instance, we have Silicon Valley. How many people do you suppose have to come to Silicon Valley on business, visiting the high-tech companies that have their homes there? Thousands!
We have LA and Hollywood. The same thing applies. Thousands of people have to visit there on business. Take all those famous actors and actresses in Hollywood. They have to go there for weeks or months for filming – and there is no way that they are going to stay in a hotel. That's not for many of them. No. They want their own "home from home", so they look for corporate housing, so there is very little left for us "little people"! Well, OK, not "little people", but you know what we mean. Those stars earn fortunes compared with the rest of us, so they take whatever they want.
And similar things happen throughout the rest of the "Golden State". People flock here from all over the US, and indeed, from all over the world, on business. They also come here for holidays.
Use Our Locator Service to Find Housing
All of this means that if you need to visit California – whether on business or for pleasure – you need to use the corporate housing locator service that we offer at Key Housing Connections. Our corporate housing locator service is run by experts with many years of experience in the corporate housing sector, and they have inside knowledge of hard-to-find housing.
We also have corporate housing available that you cannot find anywhere else, no matter how hard you look, because it isn't advertised anywhere else. Over the years we gave built up connections with many property owners throughout California who now rent their properties out only through us. Hence our name: Key Housing Connections.
So, if you need a short-term home – apartment or family home – in Burbank, Anaheim, San Diego, Fresno, Fremont, Oakland, San Francisco, and many, many more, our corporate housing locator service is what you need. We can provide you with what you need when you need it.
Another big advantage of our locator service is that many of the properties that we can let you have, are pet friendly as well. That means that you can bring Fido with you and won't have to put him in the kennels. What could be better?